Girls´and Boy´s Day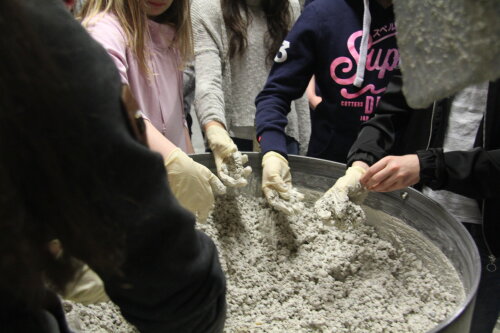 As part of the annual Girls' and Boys' Day, students in grades 8 to 10 are given the opportunity to participate in exciting workshops on the topic of "Concrete is COLORFUL", which is offered by the chairs of Solid Construction and Building Materials Technology of the Faculty of Civil and Environmental Engineering in cooperation. An insight around fresh and hardened concrete awaited them.
In the concrete laboratory, the participants first learned what concrete is actually made of. With this knowledge, they produced their own fresh concrete in the concrete mixer. They were able to feel the fresh concrete with their own hands and found that it felt "squishy and crumbly at the same time," as if "you were throwing stones into meatball dough." The actual consistency was determined with the aid of a spreading test. This resulted in a spreading dimension class of F2 (plastic), which was still too stiff for processing. The students learned that it was not water but the superplasticizer additive that was to regulate the consistency. After the superplasticizer was added, the concrete became soft (F3) and concreting could start. Everyone was allowed to create their own keepsake with brightly colored concrete and decorations to take home. Deep red hearts and colorful balls were the result of the first workshop part.
The second part took place in the experimental hall. Here, the participants saw a cube compression test to determine how many small cars a cube with an edge length of 15 cm can carry. The students worked out the behavior of a cylinder under splitting tension and then observed this in the experiment.