Whitsun excursion 2019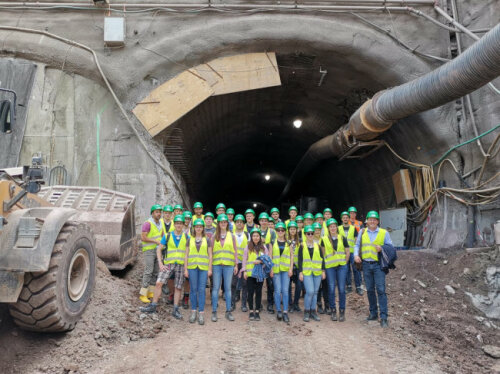 This year's Whitsun excursion of the Faculty of Civil and Environmental Engineering took place from 11 to 14 June 2019. It was organized by the Chair of Construction Materials Engineering in cooperation with the Chairs of Statics and Dynamics as well as Tunneling, Pipeline Construction and Construction Operations.
The Whitsun excursion enabled 26 students to gain insight into some areas of civil engineering. Current construction projects from the departments of structural and bridge engineering, civil engineering and tunneling, as well as building materials technology were visited.
First of all, the Wittekind Portland cement plant in Erwitte and the admixture plant of Cemex Admixtures GmbH in Salzkotten were visited. In Kassel, various viaducts and tunnel structures in the course of the expansion of the A44 were on the agenda the next day. The third day took the travel group to Stuttgart, where the "Stuttgart 21" traffic and urban development project and tunnel structures of the new Stuttgart - Ulm line were visited. On the last day of the excursion, the students visited the shell of the underground transport station "Gateway Gardens" in Frankfurt. The last stop was also in Frankfurt at the "Frankfurt Four" construction site. Here, the Trevi company showed the students the special civil engineering work currently taking place for the planned high-rise buildings.
Further information about the Whitsun excursion can be found here.